The Betrayal of Natalie Hargrove
Author: Lauren Kate
Published: 2009
On Goodreads
My Rating:
Rated F for the fatal twist of fate for a teen who wanted it all but fell from race instead.
All it takes is one fatal mistake…
High schooler and IT girl, Natalie Hargrove spent years changing her image and leaving behind the poor girl she used to be. Unfortunately, the past comes back to haunt her in the form of Justin Balmer and threatens her chance at becoming Palmetto Princess.
Things take a dark turn for Nat when Justin turns up dead. Suddenly, her shot at becoming princess is in jeopardy. Thrust into keeping more secrets, committing scandal, and being swallowed by shame, Nat will do whatever she must to keep her posh life.
There's one thing that Nat can't fight. One thing that can never be defied no matter how much one tries. Fate.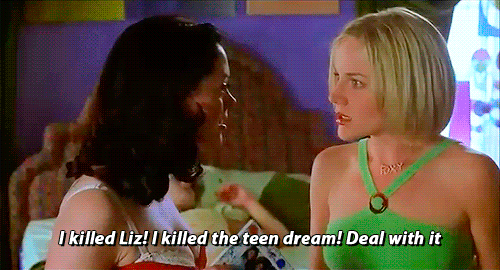 Jawbreaker meets Gossip Girl in this thriller YA. The teens of this book are apparently able to get away with anything and live off of the dread of others with their high-class lifestyle. Nat thought she had it all until she didn't. Like most secrets, keeping them is deadly and they almost always s come out in the end. That's exactly the case for her after she accidentally kills a classmate.
While there were constant thriller vibes that were meant to keep the reader on the edge of their seat, the drama was propelled by the main character's desperation. Nat went to great lengths to keep her princess status and she didn't even care who was hurt in the process. In the end, what goes around comes around. And, it definitely came around.
I want to say this was some glorious karma read, but all in all? It just passed the time. It wasn't dull by any means, but it didn't leave with that jaw-dropping, numbing shock. Nat didn't strike me as anyone unique. She was the typical mean girl and I didn't feel bad for her when she got pulled into covering up an accidental murder. While an accidental murder seems so 90s, this didn't come across as accidental. The girl didn't even feel bad and had dragged her boy-toy, Mike, into it!
I was also a little confused about the point of some of these side characters, like Nat's father and the pedo-cop. Involving her imprisoned father, implying that he'd have a big role to play was so strange. I understand that he represented Natalie's past, but I kept thinking he'd have a bigger role in the story and he never did. Same with the creepy cop that was on the case of Justin's 'mysterious' death. The implication that he might've had a role to play was there, but his presence was so far and few between that it felt pointless to make such a strong impression.
The setting of the book was pretty basic for a rich and privileged community. The ritzy house, boyfriend, friends, and even school. I wasn't all too blown away by it which made this an even faster read for me. There wasn't anything in it that really stood out and it didn't boost the story for me at all.

I was disappointed with the ending. Usually, I'm pretty good with letting things lie, but not this time. This time it just felt like an easy out for the characters. While to some, it would seem like the characters got what was coming. To me, it didn't feel that way at all. They got out of the shame and punishment they were due.
Overall
Not a half-bad book. Mild and nostalgic to deadly teen drama. It wasn't overly exciting aside from the mean girl getting her comeuppance from wanting far too much. I wouldn't pass up seeing this made into a B-movie. LOL.
Will I be keeping for my shelf? Probably not.
Quotables:
"Look like a flower, act like a snake…" (p. 109)
"…Revenge is often closer than you think, and the fall is never far behind it." (p. 155)
More to come soon…
  -K.
Song Today? Never Be Like You by Flume ft. Kai)
Find Me:
Thoughts? Let's chat in the comments below!