The Final Girl Support Group
Author: Grady Hendrix
Published: 2021
On Goodreads
My Rating:
Rated S for a side of slashing, unconventional support, and rigorous sarcasm.
final girl (n.)—the last and
sole survivor of a horror movie
There's always one. The one that makes it to the end. The one who fought back. The last one standing. The bloody survivor. The final girl as horror movies put it.
Lynnette Tarkington is a real-life final girl. For years after surviving a Christmas massacre she's attended a support group for other like her. Things take a dark twist when a new final girl emerges from an old haunting ground of one of the final girls in the support group and a fellow group member turns up brutally murdered. Lynnette's worst fears come to life. Someone knows about her and the group are coming for each of them. But, these ladies know what it means to survive and one way or another, they'll make it to the end of this one.
After reading The Southern Book Club's Guide to Slaying Vampires, I was sooo on board for Grady Hendrix. Just oozing and lusting after more of his writing. Simply, it's outstanding. Not simply, it fan-fecking-tastic with a side of blood, gore, paranoia, and delightfully dark humor that was directly up my alley. This cover was similar to SBCGSV's with a sleek black background that allowed a single key object—a blood-drenched chair in this case—to shine at the front. What it represented was so basic yet encompassing of what this book entailed. I loved it!
This homage to the epic horror of the 80s and 90s was not lost on me. The era of the artistically gory and bloody that would always be remembered. From Friday the 13th to Black Christmas to Halloween, I was in horror heaven. I'm a major fan of this era, so I was absolutely giddy. The extra media between chapters that told the final girls' tales through a shrewd lens was intoxicating.
One of the best parts of this was the lengths Hendrix went to convey the way horror continues to follow a survivor. It never fades. Not the horror, the scars, the losses, or the trauma. And this even correlates to the true crime shows and movies that have come out over the years and the survivors and families who suffer and relive the horror through the fame it's given the killers. It's tragic and such a major play. Hendrix lightening it with his dark humor and manifesting it after familiar horror movies was phenom. It highlighted a great horror era but also reached out to the legitimate bombardment of reliving the trauma in real life at the hands of the media.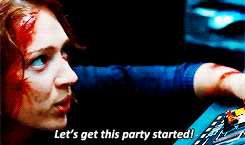 This support group is unlike any other. I was pretty intrigued. After the credits roll, people just assume the horror is over. But, it's never over. Creating a space like this is original and incredible but also logical. It's not outrageous to imagine and that's part of what made this book fantastic. The other reason is that this acted as a sequel to this horror era that nobody asked for but could desperately love.
Lynn is one hell of a character. Paranoid, anxious, a liar, and one spry and sarcastic underdog, but I get it. Lynn even reminded me a bit of both Sidney Prescott and Laurie Strode in their next-generation movies. They've been around the bend enough to get bold. Right from the start, you get a strong feeling about how each of these ladies in the support group handles their struggles and it's not ridiculous. What was ridiculous was the circus they went through afterward on top of losing the feeling of safety for the rest of their lives. Still, Lynn's determination to protect each of the ladies regardless of if they like it or want it. While the results were hysterical, it made Lynn a crazy kind of noble.
Side Note: Her cactus, Mr. Fine, is one of my favorite characters. He most definitely added to the "crazy plant lady" stereotype and it was a lot of fun. I was also rooting for his survival. He was just a phenomenal characterization that showed Lynn still has enough compassion to care for something outside her survival.

I was left guessing so much and clinging to this book for dear life. Hendrix is a powerhouse and magician with the way he gets you to look one way and question what you are reading. It was my kind of adventure with each final girl dealing with this new killer out to kill them. Only one ultimate final girl would survive, but who would it be? Who was the killer? Gaaaahhh I loved and hated how this kept me guessing. LOL.
Overall
Unpredictable and incredible. I don't think I can hype this one enough. Hendrix has knocked it out of the park again. He knows how to create a circle that horror and humor can share and that's remarkable. I'm at the stage where I recommend every book of his because he's that great. He refreshes the horror genre and stands out.
Quotables:
"We don't stick around, we scatter. We're final girls; taking care of ourselves is what we do." (p. 23)
"The line between being too careful and not being careful enough is a line you only get to cross once." (p. 27)
"None of us have to be defined by the worst thing that ever happened to her. Unfortunately, those things have a bad habit of coming back and trying to kill us again. After a while, you start to realize that your life isn't the thing that happens between the monsters, your life is the monsters." (Lynn, p. 89)
"Patience will keep you alive." (Lynn, p. 215)
"Fearing death is just resistance to change." (Chrissy, p. 248)
More to come soon…
-K.
Song Today? Your Lucky Day in Hell by EELS
Find Me:
Thoughts? Let's chat in the comments below!