Horror Hotel
Author: Victoria Fulton & Faith McClaren
Published: 2022
On Goodreads
My Rating:
Rated P for a paranormal game of psychic and go seek.
Enjoy your stay.
YouTube famous ghost hunters—Ghost Gang: Chrissy, Chase, Emma, and Kiki—head to a notoriously haunted hotel in downtown LA as they near 1 million subscribers. This next ghost hunt will be the sure thing to push them to the top. The hotel they're staying at? Well, that's The Heart Hotel.
As they take on their spookiest hunt yet, they stumble upon something sinister. A murder was committed in the very room a gruesome serial killer had stayed in. The group is torn between seeking out help and figuring out who the killer is, but the spirits of the hotel don't care. They have their own messages to share and they're determined to share them with the gang.
The cover! Spooky, vibrant, chilling. The sunny and glitziness of LA meets its gritty side. The formation of the skull protruding outward with a screaming spirit within that and an unidentifiable person (or ghost) in the window is all kinds of fantastic. It gave way to what the book entailed in such daring and enticing color. I can't get enough of it. Weirdly, I'm pretty sure that's my favorite thing about this book.
I was hooked by the idea of a haunted hotel. I used to watch Ghost Hunters all the time and my favorite episodes were done in old theaters, hotels, and, of course, asylums. I was also getting an AHS vibe.
And yet, I couldn't get into this book. A hat clouds psychic abilities? Seriously? Yeah-no.  That's a bit much, and completely unbelievable. And dare I mention the "Oh! Let's solve a murder!" as if they believe they're Nancy Drew? The ghost hunting for likes and money rather than for the supernatural and spirit hit a personal note for me that tweeked my aggravation. Then there's how awkward every single moment felt and how robotic it read? I couldn't get on the hook this book was dangling.
However, Chrissy's meet-cute with Bram was almost cute. There were so many red flags but yet, they connected over the key-factor: being psychic. Chrissy seems to get bombarded a lot by her friends, so I was just happy she could connect with somebody who understood. Granted, that changed pretty quickly as he grew creepier.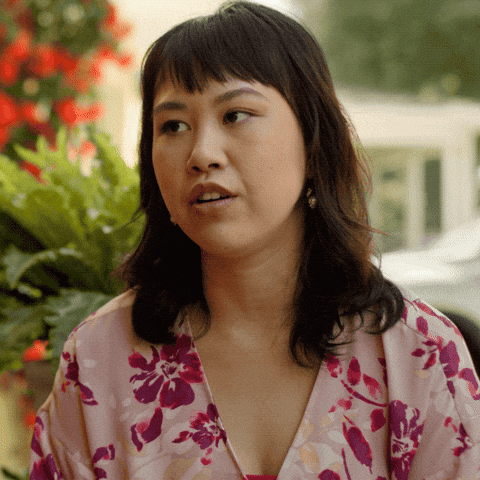 Kiki is the character that gets underestimated the most and that's why I liked her the most. Her skittishness and anxiety were used against her in this group and that wasn't fair, but she overcame it. She is such a bubbly character who refuses to let anyone tear that away and that reminded me so much of Eleanor from Netflix's Never Have I Ever. The rest of the gang was okay, but I was more invested in Kiki, and she wasn't the psychic one or the leader. She was, as Chase put it, the bait. Usually, I look forward to the bait characters getting knocked off because they're so stupid, but not Kiki. She deserved everything good.
The style of this book was unique. There were inserts from the guest that was murdered there, the very one the Ghost Gang was hoping to contact. I understood that the idea was to intrigue with snippets and garner the reader with the whole social media grab, but it didn't work out. On top of that, there was just so much tell rather than show. I am a reader that doesn't need to be told every single little thing. I like to let the imagination do its thing, but here I couldn't. It made the storytelling bland and disappointing.
Overall
This wasn't what I'd hoped it would be. Not really scary, just dramatic. Who knows, maybe I'm desensitized to ghosty stuff. With all of the supernatural I delve into like it's my normal, I wouldn't be surprised. Then again, a lot of what these teens did was pretty stupid. None of it made sense. LOL.
I will be donating it and hoping somebody likes it more than I did.
Quotables:
"I came to LA to find myself, but somehow I'm more lost than ever. This hotel is hungry. I hope it doesn't swallow me whole." (p. 2)
"Charisma is something only the living can possess." (p. 85)
More to come soon…
-K.
Song Today? Start of Time by Gabrielle Aplin.
Find Me:
Thoughts? Let's chat in the comments below!