Dead Until Dark (Sookie Stackhouse #1)
Author: Charlaine Harris
Published: 2001
On Goodreads
My Rating:
Rated C for an overabundance of cheesiness that you will start to feel lactose intolerant.
"I'd been waiting for the vampire for years when her walked into the bar."
Sookie Stackhouse is just a small-town waitress. There's one teensy thing that makes her different from other people. She can read minds. Typically, she's quiet and doesn't get out much and likes it that way. That is until she meets Bill, Bon Temps first-ever vampire.
Then suddenly, a string of women known for cavorting with vampires turn up dead. Sookie's brother, Jason, is at the top of the suspect list and she's determined to find the real killer. When bill offers to help, she begins to contemplate feelings for the vampire.
The start of this vampire series which inspired HBO's True Blood, saw Sookie watching out for her hot-headed brother and falling in love with Bill. She quickly sunk into the supernatural life and embraced her telepathy ability as she gets entangled in vampire business. Her simple life got complicated really fast.
The cheese is strong with this series and I did not expect that. This is actually the first book I've ever read that's been so cheesy that I've giggled, rolled my eyes, and felt like I was in a pool of silliness. I'm shocked to say that I loved the show so much more than this-at least so far. The show offers that dark, logical, and realistic side to this universe that just pulled me in.
Much of the writing was more telling than it was showing and it threw me off. That bothered me more than the fact that this book is so simple. There's no moral or point or emotional tie, just straight up entertainment that feels slightly questionable. This was definitely a cute and fun read, but what I call a lush read.
Sookie really isn't one to ask questions before diving headfirst into trouble and she wasted little time showing that. Bill and Eric, the two vampires in Sookie's life certainly lived up to the vision I had of them. Domineering and ancient. Very Dracula-esque. LOL. Still, I can see why Sookie fell under their allure. They offer a different life. One of adventure and danger, something she's never had. However, if I have to choose between the two who fight over Sookeh, I'm picking Eric. That's not to say I don't think Sookie and Bill together aren't cute. They are, but I like'em bad!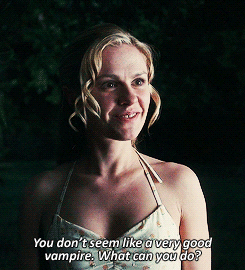 Sookie had her work cut out for her between helping Eric figure out who's been stealing from him and trying to clear her brother's name for murder. Sookie can handle herself in these situations though and that's something I like. Sure, she's naive, but she's got gumption. That kept me going as I read this. That, and the drama which there was plenty of, especially when Sookie was confronted by a vampire nest from Bill's path.
Side Note: Bubba was an unexpected yet giggle-worthy addition. I never expected it. I can't completely spoil it, but I will say that he was a great singer, but not a great vampire.
Overall
Not bad. More fluff than anything else, but that's nice on occasion.
Quotables:
"The world seemed a bad and terrible place, all its denizens suspect, and I the lamb wandering through the valley of death with a bell around my neck." (p. 83)
"I always think of vampires as smarter than humans, but they're not, huh?" (Sookie to Bill, p. 209)
"Life had sure been simpler when I hadn't dated." (Sookie, p. 211)
More to come soon…
-K.
Song Today? Never Be the Same by Camilla Cabello.
Find Me:
Thoughts? Let's chat in the comments below!