The Stand – The Complete and Uncut Edition
Author: Stephen King
Published: 1978
On Goodreads
My Rating:
Rated R for revelations of the apocalyptic persuasion and the rage of war between good and evil.
This is the way the world ends: with a nanosecond of computer error in a Defense Department laboratory and a million casual contacts that form the links in a chain letter of death.
After a deadly flu deemed Captain Trips kills off the majority of the world population, a battleground is set between good and evil. The remaining survivors are picking their sides. Nightmares and dreams taunt everyone as they are guided either to Mother Abigail, a woman of god, or Randall Flagg, an embodiment of darkness.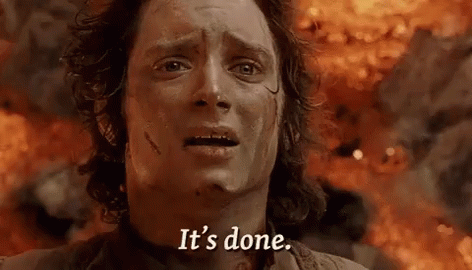 Holy crap…I've finally finished it. LOL. This one took longer than The Tommyknockers. But, that's only because I was dragging ass and my feet. I know, I know, tsk tsk. Bad Kat. I started this one, I believe, during my sophomore year in college: 2012-2013. But the long journey has come to an end, and you know what? It wasn't half-bad.
If you grew up in the 90s breaching the 00s then you know the mini-series. This version of the book, much longer with extra characters and added scenes, didn't even give the mini-series a chance to hold a candle to it. The reboot, however, stood a chance. The debate of this triangle—which was better, how they differed, what was dreadful—is a long and exaggerated rant that I won't go into. Maybe in a separate post, but not now. LOL. Each stood out yet together in their own ways. Period. What I will end this little note on is that I do understand the reboot a little more. When I first watched I was losing my shit because it was so different from what I knew, but now I get it.
The man in black is back and he wanted his own little slice of life. The realm of The Dark Tower seeped into our world and it didn't hold back, but it didn't stand a chance against human resilience. Only this time around, he went by Randal Flagg and he was taking no prisoners. Knowing just how close he got to his own version of the end actually shook me up. Having read The Dark Tower series, I know that if it had been the Crimson King taking the world, he would've succeeded. It's an unnerving feeling, but true. The connection back the series was small but noticeable. King is well-known for connecting almost all of his novels back to the realm of DT. That universe is so huge and one day it would be incredible for a series to travel through each book. Complex, but incredible.
Good versus evil is a trope as old as time and it never fails. It is faith, will, and hope that powers this book. The world as everybody knew it was gone. New powers were rising up. One side, coming up in Las Vegas, wasn't even of this world, and the power rising up in Boulder was one believed to be fronted by God. Personally, I'm with one of the main characters, Glen Bateman, debating if it was really God they followed. With all of the DT connections, it is debatable. With each story interwoven so tightly, I was surging with thrills and chills at getting to grow closer to each character, both good and considerably evil, and even those that were just cannon fodder caught in the middle. Sure, the action was on the light side, but the journey to rebuild and prepare for a whole different end than the deadly flu was enticing.
The world-build is our own world yet not. It's an end that when thought about so hard is actually pretty scary. Hell, so many people reflected back on this book when COVID-19 was at its height. Understandable. With all of our reliance on technology and so much else, it's hard to even imagine this situation without shuddering or uttering a small squeak of fear. King didn't hold back the depths of just how dead this world was and make you question if you would've actually wanted to be a survivor in it.
This book, though absolutely huge was quite magnificent. Though sometimes I can't stand slow storytelling, this time I was appreciative of it, especially with such a large cast of characters. Having so many characters and being able to give ample detail and story to each, giving them a sense of importance in this grand machine isn't easy, yet he accomplished it with ease throughout this pilgrimage. Kudos.
Overall
Quite an outstanding read. An end that came with a sigh. Whether with relief or finality is still up in the air. Still, quite enthralling and masterful. A real-world apocalypse that shook me up a bit and made me ask myself if I'd have what it takes to survive this? To the very end? Probably not, but I'd get real damned close.
Now. Time to return this book to my mother.
Quotables:
"It was almost time to be reborn. He knew. Why else could he suddenly do magic?" (Randall Flagg, p. 184)
"You'll see. There's bitter days ahead. Death and terror, betrayal and tears. And not all of us will be alive to see how it ends." (Mother Abigail, p. 515)
"There is really nothing so comforting to the beaten spirit or the broken of skull than a good strong dose of. "Thy will be done."." (p. 617)
"M-O-O-N, that spells moon. Laws, yes. Tom Cullen knows what that means." (Tom, p. 998)
More to come soon…
-K.
Song Today? Don't Fear the Reaper by Blue Oyster Cult. (I couldn't pass it up.)
Find Me:
Thoughts? Let's chat in the comments below!