Forever in Blue (Sisterhood #4)
Author: Ann Brashares
Published: 2007
On Goodreads
My Rating:
Rated D for the distance that makes the heart grow fonder and stronger.
With unraveled embroidery and fraying hems, the Traveling Pants are back for one last, glorious summer.
Bridget, Lena, Tibby, and Carmen are on the college track but there are still a few life lessons to learn that prove there's still some growing to be had. Bridget goes to Turkey on an internship and it tests her relationship with Eric. Tibby and Brian take the next step in their relationship and face unexpected possibilities. Lena might be ready to test the waters with dating again but her heart still calls out in ache for Kostas. Carmen's identity crisis sends her places she didn't expect. These four friends have always come together but this summer they face much on their own.
Sisterhood of the Traveling Pants Reviews
The Sisterhood of the Traveling Pants
The Second Summer of the Sisterhood
This one stung in places all too real for me. I was taken back to my freshmen and even sophomore year of college when I felt so incredibly lost. I didn't know the people I used to talk to anymore and the people that entered my life during this period were on the line of defining who I am and if they were going to be fixtures in my life. I also was trying to sort out who I wanted to be because this is the point in my life I could tell others who I was, not them tell me who I am. Each of the girls was in a very similar place in one way or another.
Bridget nearly crossed a dangerous line in this book. She still struggled to understand relationships, but that was her big arc during the book. In this final stretch into adulthood, it was time to confront a boundary that she knew about but hadn't really considered until now. Now that she was officially with Eric and the two were working toward a life together, she was realizing that she wasn't living her life solo anymore and neither was anybody around her. Though on one hand her misadventure could be seen as childish, I'm not so sure. Bridget grew up in a house without a solid parental figure. Her mother died young and her father was incredibly dissociative. Everything she's learned has been on her own. But, I love that by the end of her journey, she put an end to it. She was done with her father and brother haunting their home like ghosts. She wanted her family and deserved to have it. Her grand assertiveness has been known together into trouble, but not this time.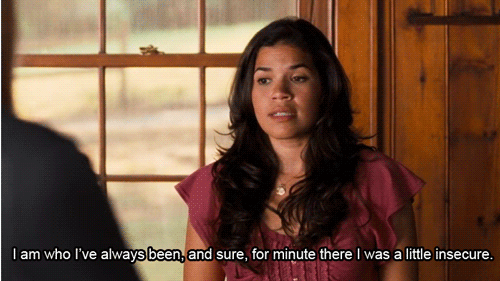 Carmen's struggle with her self-esteem and identity hit close to home. Even now, almost thirty, there are still parts I can't sort out for myself. You don't stop having these sorts of problems ever. They keep coming at different parts of life. For Carmen, getting swept up by a false friend was a test. She's always been a powerhouse with both her personality and her ability to care about others. That didn't mean she didn't have a struggle, however. Stuck in a background where she thought she belonged, this was a time she really needed her friends, yet not. She got an opportunity to stand on her own and she thrived. This was one of the most moving arcs of the book for me. A journey of self-discovery and knowing your self-worth and what you deserve.
Side Note: What happened to Win? I was so puzzled that he was suddenly gone without much of an explanation. Passing loves, I get. But, it was like he was magicked away and I kind of like that guy. Hm.
Meanwhile, Lena and Tibby faced obstacles all too real for the heart that could and would alter their lives forever. Lena no longer want Kostas to hold a powerful hold on her heart and was ready to move forward. She was able to take a big step with fellow artist, Leo. She was finally able to step away from that major first love and find something fun for herself. Tibby wasn't so lucky. She and Brian were on rocky ground after a pregnancy scare and Tibby needed to figure out if she really loved him or not.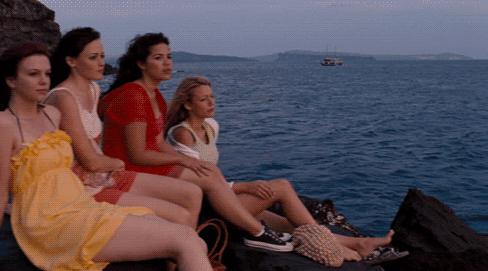 This has been such an incredible journey and I was excited to see them all take such huge leaps into adulthood. The "go find yourself" trope is a favorite of mine and especially in a coming-of-age tale like this. In this next big leap, the girls find out what it's like to be apart and figure things out for themselves. Not only that, but they realize that while it had been easy then to stay together, now they must work to stay together while they are entering the stage of life when they won't see each other all the time.
There was a gigantic loss that was heartbreaking yet gave that humble full-circle feeling. This was the pants's last summer. The last of their magic. It was up to the girls to work to stay together. Even so, the tradition was already slipping, a sure sign that its time was passing and the time to move forward was now. The message that letting go is okay as long as you don't forget is powerful. It's never easy, but that's how you know it was real. The pants bonded the girls together, but it wasn't the only thing.
Overall
Bittersweet and triumphant. I still grabbed my heart at the emotional parts and gasped at the moments I could relate to and hurrahed for every time the girls came to their realizations. These life-defining moments are the ones that would seem so trivial to most, but in the eyes of those that are going through things like this or have, it's embracing. It's startling. It's beautiful. It's cherishing. It's so many things that remind you to tell you that you love your best friends.
Quotables:
"There were so many things you took for granted. So many things you hardly noticed until they were gone." (p. 28)
"Love was an idea. Nothing more or less." (p. 273)
"Where there is nothing, there is the possibility of everything. When you live nowhere, you live everywhere." (p. 317)
"We aren't in any one place or any one time. We are everywhere, here and there, past and future, together and apart." (p. 383)
More to come soon…
  -K.
Song Today? Together by Michelle Branch.
Find Me:
Thoughts? Let's chat in the comments below!