Siege and Storm (Shadow and Bone #2)
Author: Leigh Bardugo
Published: 2013
On Goodreads
My Rating:
Rated I for inspiring insurrections and sudden insecurities.
Soldier. Summoner. Saint.
Alina Starkov's power has grown immensely and the price of that was staggering. Still haunted by the events that unfolded on the Shadow Fold, Alina and Mal have been trying to make a life for themselves far away from the world they knew.
When the Darkling emerges from the Fold, he's determined to find Alina by any means necessary to use her magic for a deadly plan that could rip the natural world apart. Alina and Mal have little choice but to accept help from an infamous privateer and others they never thought they'd cross paths with again. More so, Alina must seek out the other two amplifiers that could defeat the Darkling.
Shadow and Bones Reviews
Okay, maybe I'm starting out the gate a little feisty, but how is it that the first book took its sweet time with Alina learning her abilities and prancing around the Little Palace and fawning over the Darkling and finding the stag, yet they found Rusalye in a snap? Less than a hindred pages and they found the water dragon. That seems too easy. Same goes for Mal and Alina getting caught by the Darkling. Like, dang. I thought Mal was a good tracker. The beginning was so rushed, especially with finding the next major amplifier. It left me a tad disappointed.
What got me giddy again was Nikolai. Ugh, my next big crush. Sarcastic, funny, adventurous, rebel, and the big reason to stay hooked on this trilogy. I had been rooting for Mal originally, but he did a complete one-eighty in this book. Suddenly the thought of Alina becoming powerful and a hero made him incredibly insecure and droopy. Even Nikolai said so! I quickly switch off the Mal train and am totally hoping for Nikolai and Alina. He embraced her abilities and loved who she was. He encouraged her and supported her. Mal kept trying to hold her back. At least with Nikolai there's honesty and banter and even the hint that they could fall in love if he and Alina took time to explore it.
Alina's powers and character growth was stunted in this book. Her timidness and fear kept her from stepping up. Mal with his continuous harping and distaste didn't help. The Darkling with his intruding visions neither. I've never witnessed a character fall to their knees because they let the weight of everybody else's influence deter and rule them. Yet Alina did just that and it affected how she lead people in a war effort against the Darkling. Nikolai seemed to be the only one on her side, supporting and lifting her up.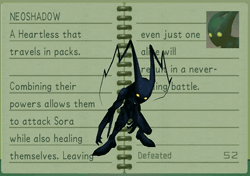 The new monsters of the book, the nichevo'ya AKA nothings were kind of-a lot-terrifying. Very vicious. And they were reminiscent of the heartless from Kingdom Hearts. This monster upgrade was impressive and shook me up a bit. Very creative with how they tie to a few things that are pretty terrifying for people i.e. the dark, endless nothing, despair, and helplessness.
Overall
My intrigue for this trilogy has died a bit. The things that have excited me about this book don't seriously include the main character or even the plot of the book. Not sure if that's good. There were some small surprises, but those died, too. Alina seems incapable of making decisions. Mal has turned into a sulky puppy dog. The darkling has proved what a sadistic killer he is, leaving me clueless as to how people have a crush on this villain.
This SaB installation was so different and felt off-kilter compared to the first book. The promise I'd felt for the trilogy through it vanished, leaving barely a spark. I was sadly disappointed the story seemed to under-develop instead of developing at all.
With one book to go, I'm hoping there is a decent conclusion…though I'm not feeling too positive.
Quotables:
"Anything worth doing always starts off as a bad idea." (Sturmhond, p. 101)
"You know, for two people with a love eternal, you're awfully insecure." (Nikolai to Alina, p. 247)
More to come soon…
  -K.
Song Today? Six Feet Under by Billie Eilish.
Find Me:
Thoughts? Let's chat in the comments below!