Sons of Anarchy: Bratva
Author: Christopher Golden, Kurt Sutter
Published: 2014
On Goodreads
My Rating:
Rated R for rough and rowdy that only a good ride with SOA can give…with a side of Russians.
"Jax Teller like peace and quiet as much as the next guy, but he'd learned the hard way to never trust them." p. 1
Jax Teller has a lot on his plate. With half of the MC, SAMCRO, recently released from Stockton State Penitentiary and the Galindo drug cartel causing problems, he's not trying to draw too much attention to the club. However, when his half-sister, Trinity goes missing and all signs point to her getting entangled with the Russian Bratva gangsters, he adds one more thing to that plate.
Jax, with Chibs and Opie in tow, heads to Nevada to get her out of this mess. Because per the Teller family motto: Where a Teller goes, trouble follows.
I love how well-placed this book was into the TV series. Right between two episodes as if this was an episode itself. I love it. It doesn't disrupt the show but goes hand in hand with it. I have a much stronger appreciation for tie-ins that do this.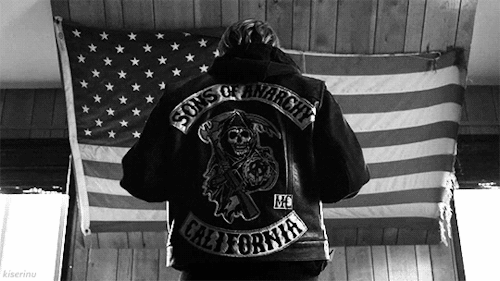 Per usual, the boys are in a tight spot, or rather, Jax is. Cue the eye-roll that isn't out of annoyance, but of expecting nothing less. Of course, he'd get into trouble. He's always getting into trouble. I'd be more surprised if this was about one time he didn't. Speaking of surprise, the trouble this time that Jax got into wasn't even his. It was his sister's! The glimpse into his father's private slice of life he found in Ireland that turned into having a daughter was a mini-shock. And, my hope to see more of Trinity was granted with this book. Much like Jax, she was a hellfire to be reckoned with. Getting more of her character was amazing.
From the imagery to the tone/voice of the book, it was all on point and clear. Absolutely phenomenal. Golden kept with the show's fast-paced rough edges.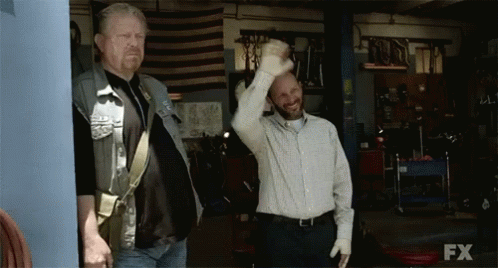 While this focused on Trinity and Jax with Chibs and Opie along for the ride, there were still cameos by some favorites like Chucky! It is always a joy when Chucky comes around. There was no Gemma and I wish there could've been one of her epic one-liners. Still, the book laid out each character to a T.
There was a touch of sweetness to this book that wasn't out of character but unexpected. Jax found a different perspective on family and also a lot of similarities. I was hanging on tightly as Jax on this role as a brother in more than just MC fashion. This was about blood and that drew out a different side of the man. This story between the siblings definitely makes me wish Trinity had been in the show more.
Overall
Such a wild and fun book. For fans of SOA, definitely take this for a spin. You won't be disappointed. I wasn't for a second. You'll be sad though because the pages will fly by so fast once you get started and just like any and every episode of SOA, it'll end too soon.
Quotables:
"People talked about the measure of a man, but to any man with children, the only real measure was in the eyes of his kids. If someday they learned the things he had done for the club, for brotherhood, and to try to build the future he wanted for them…he hoped they would understand why. But the more time passed, the more he realized that giving them that future mattered more than them forgiving him for what he had to do to get them there." (Jax, p. 47)
"Guns are hateful things…but remember, love, that bullets are like presents—better to give than receive." (p. 203)
More to come soon…
  -K.
Song Today? It's A Long Way To The Top If You Want to Rock and Roll by ACDC.
Find Me:
Thoughts? Let's chat in the comments below!