Hey there, book demolishers!
Came across this book tag and was feeling a little daring. So, here we go! Now, there are some rules that come along with this one. Sadly, I don't think I can follow a couple of them, like adding an extra and tagging. Adding an extra to an already long tag? Nooooo. Tagging humes? I want all the humes to take part if they would like not just the special ones tagged.
While I snagged this one from There's Always Room For One More this originally came from a blog that is officially 404.
The rules are as follows:
Link back to the original creator and the person who tagged you
Answer all the prompts
Add one more prompt of your own
Tag at least five people
Don't lie…
Here. We. Go.
NEVER HAVE I EVER… READ A LATER BOOK IN A SERIES BEFORE READING THE FIRST BOOK
I did this with A Series of Unfortunate Events by Lemony Snicket then continued to read that series out of order. Strangely, it still made sense and also became one of my favorite series while growing up. LOL.
Most recently, it was the Elemental Assassins books by Jennifer step that I started in a wonky place with. It was #8 I think? Still, it convinced me to get the rest of the series before continuing on. She has a way of capturing one's attention with her boundary-less, wild fun and risk, and danger, and the supernatural.
NEVER HAVE I EVER… BURNED A BOOK
Are you FECKING nuts!? This question should be banned!
No, hell no. I would never. Such a crime. SMH* I can't believe this is on here.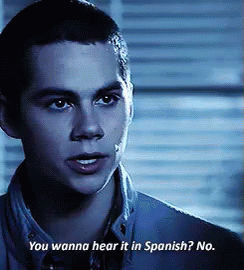 NEVER HAVE I EVER… READ A BOOK I KNEW I WOULD HATE
I have…it was the After series by Anna Todd. And I still continue to finish it. I don't know why. Maybe I like to torture myself. Or, I take personal glee in shredding it because I know the book would be so much better if it was edited correctly.
NEVER HAVE I EVER… WRITTEN FANFICTION ABOUT MY FAVOURITE BOOKS
Way back, a long time ago, before the age of man, I did. It's actually where I started my FF adventure. Not long after I switched to TV/movie FF. But, it all started from The Vampire Diaries series. I'm such a Bamon freak. LOL. I can't help myself. But then I started going in all kinds of directions with TVD. Which is the point I figure. Yoou write what you would envision. Otherwise you're just copying the author. So, when I started shipping Stefan and Bonnie together because of Delena and I liked the unique possibility, I relished in the hate comments of triggered readers. I. Laughed. So. Much. I also relished in Tyler/Bonnie.
NEVER HAVE I EVER… LOVED A BOOK WHEN I WAS YOUNG THAT I HATED WHEN I GOT OLDER
Hmmmmm…No. I haven't.
NEVER HAVE I EVER… DRESSED UP AS ONE OF MY FAVOURITE LITERARY CHARACTERS
Hmmmmm….YES!!!!! A few years back, for Halloween. I became a Puck from A Midsummer Night's Dream. It was pretty rad. I even bare foot for the whole night. My feet were blacker than coal. LOL. It was amazing. I loved every second. Puck is such a michevious character and it was an utter delight to fall under his spell.
The photo quality is poor and so I look a little like a horror show, but still, loved it.
NEVER HAVE I EVER… HATED A BOOK BY AN AUTHOR I LOVE
Hated? Strong word. Disappointed and put-out? Yeah. Certainly. I love the Lux series, the Wicked trilogy, and the Harbinger series. Very good all around. I'm excited to get my hands on the Blood and Ash series. Buuuuut, the Covenant series has been a letdown. A real bummer. Soo much potential is bursting from it but it just falls so flat. Makes me sad.
NEVER HAVE I EVER… GONE INTO A BOOKSTORE TO BUY ONE BOOK AND COME OUT WITH MANY MORE
Okay, seriously? SERIOUSLY!?!? Do you not know me? Of course I go in with no intention and come out with a wallop of books! Geez! 😂
It's a serious addiction though, books. So walking into a bookstore, thrift book sale, a giveaway, I can't resist. Might as well walk into a crack den.
NEVER HAVE I EVER… READ THE END OF A BOOK BEFORE READING THE BEGINNING
I used to do this all the time. I still do, just not as often. I don't ever feel bad about it either. I know it's some cardinal rule NOT to read the ending of a book, but on occasion I need to know whether the journey is worth it or not.
NEVER HAVE I EVER… READ A BOOK WITHOUT THE DUST COVER
Meeehhhhhh, yes. Strangely it's not as satisfying. I know a cover doesn't really matter, but I find that the hard work up into a cover is nearly as important as the book itself. It sets the tone. And, the lack of a cover does give an air of mystery, which would be cool if I liked mysteries.
NEVER HAVE I EVER… SKIM-READ NEARLY HALF A BOOK
Jules Verne did this to me. *sigh*
NEVER HAVE I EVER… PRETENDED TO HAVE READ A BOOK I HAVEN'T READ
Nah. That takes away the potential to gain interest about whatever book I haven't read and is not a great way to hold a conversation. Plus, I don't see the point in doing that. Seems rude and ridiculous.
NEVER HAVE I EVER… WATCHED THE MOVIE BEFORE READING THE BOOK
I try ever so hard to wait to see a movie before reading the book, but sometimes I just can't help myself. I know I'm holding out on Shadow and Bone, which has had positive and negative reviews. Where the Crawdads Sing is probably one I won't be able to wait on.
NEVER HAVE I EVER… HAD A BOOK BOYFRIEND
Not my thing, not that I'm against it. Just never happened. And I'm weird. If the dude is already spoken for then I am not getting between them. I will admire and crush and swoon from afar though!
NEVER HAVE I EVER… READ A HISTORY OR ANTHROPOLOGY BOOK FOR FUN
For fun? No. There were some I had to read for a class I took, but I didn't mind them.
NEVER HAVE I EVER… PICKED UP A BOOK BASED ON THE COVER ALONE
So often! I have abotu three methods of pickign out books. Their snippet, their reviews, and their cover. It's usually one of the three, not all three. Sometimes the cover is just as outstadning as the book and sometimes it's not. But it's a fun way to jump into a book you never expected to like.
NEVER HAVE I EVER… BOUGHT MULTIPLE BOOKS IN A SERIES WITHOUT HAVING STARTED IT
I just did this last week! I purchased all three of the HadesxPersephone series by Scarlett St. Claire. I feel no shame about it. I find the Hades and Persephone mythos unique and dynamic so for this era/trend to finally hit the books in this way is exciting. I can't wait to read this.
I tend to pick books up in this way so tha tI can also remain open to all kinds of books. I love YA and paranormal the most when it comes to genre, but I won't turn down a chance to discover a great book.
NEVER HAVE I EVER… KEPT READING A SERIES EVEN THOUGH I DIDN'T LOVE THE FIRST BOOK
So, remember what I was saying about the After series by Anna Todd? Yeah? Yeah. Yep. 😑.
NEVER HAVE I EVER… READ A BOOK SO QUICKLY THAT I DON'T REMEMBER WHAT HAPPENED BY THE END
Never. I may read quick, but my brain goes into movie mode and I don't miss a beat. I'm too sucked in! I have to take ALL of it in. ALL. OF. IT. I'm greedy like that. LOL.
NEVER HAVE I EVER… STOLEN A BOOK FROM THE LIBRARY
Not that I can remember? Maybe I forgot to return one…hmmm…
I really can't recall. LOL.
NEVER HAVE I EVER… DOG-EARED A PAGE TO KEEP MY PLACE
I used to and then I began collecting bookmarks and using those. But, with the blog here, I do dog-ear page at the bottom when I find quotes/lines that I want to put in my reviews.
See? You see how long this list is already? So no, not adding to it. But! You feel free to! Take this tag for a spin and share your Never Have I Evers.
More to come soon…
-K.
Find Me:
Thoughts? Let's chat in the comments below!